Fenty Pro Filt'r Hydrating Primer
In this review, I tested out the popular primer by Fenty, the Pro Filt'r Hydrating Primer.
The debate about whether we actually need primers or not still continues. I personally prefer to use primers but some makeup artists argue that they just aren't necessary.
I am 100% positive that the right primer makes makeup look nicer and last longer.
This isn't my usual primer, but I wanted to test out something that was quite popular and also suitable to my skin type. I stock a few different primers in my kit and choose them based on the clients skin concerns and skin type.
My skin is on the dry side, and I struggle with makeup enhancing texture and fine lines. This primer is specifically meant for dryer skin. For combination skin, it can be placed just in the drier areas of the face.
This product is vegan & cruelty free, which is amazing!  
First Impressions
The scent isn't generally the first thing I'd comment on. Honestly, the smell is usually the least important part. But this smelled SO luxurious. And I don't say that often but I just loved the scent!
The look of the bottle is beautiful and also seems so luxurious and so pretty. The bottle is a pump bottle and you don't need to use a lot. 1-2 pumps is plenty.
The Pro Filt'r Hydrating Primer has a slight pink tinge in the bottle, without any visible shimmers. On the face, the primer is completely transparent.
To test whether this actually works, I applied primer to only one side of my face and didn't prime the other side. I used just my fingers to apply the product and it felt lovely and light, more like a moisturiser than anything.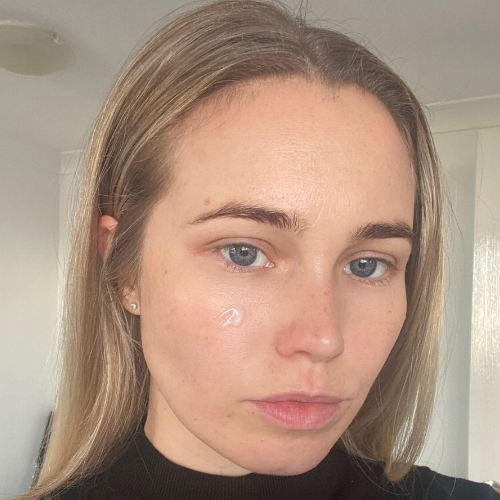 It wasn't noticeable enough to show up on camera, but in real life, my pores and texture was visibly smoother on the side with primer. This is a great start, but more importantly, how would it perform with foundation on top and then throughout the day?
I thought it best to stick with the same brand, so I applied the Fenty Longwear Foundation over my whole face. There seemed to be a slight difference between the two sides. The primer side showed a little less texture than the other. Both sides seemed equally hydrated and overall, fairly similar. At this point, the difference was only slightly noticeable.
After 1 hour
This is where I started to notice quite a difference! And actually I was amazed that I noticed it so quickly.
The side without primer was starting to settle a little bit into my fine lines and seemed slightly less hydrated. I don't blame the foundation at all, I think it was really holding up well. It's just that the side with primer was doing so much better.
The primed side still looked so smooth, hydrated and freshly applied. Amazing.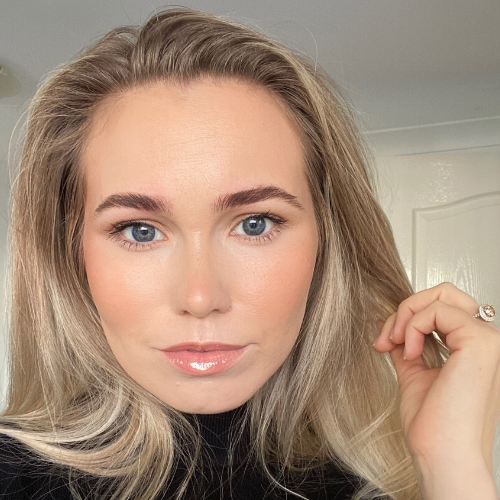 In person, the difference was quite noticeable but if you zoom in on this picture, you can see my pores and fine lines are less noticeable on the primed side.
After 2-3 hours
In the afternoon, I went for a walk with a friend who I see often. Co-incidentally, she was walking on my "primed" side. She looked at my face and said, "Wow your makeup looks flawless!!".
If that's not confirmation, I don't know what is.  
After 8 hours
I wore this later into the night and found that the foundation in general seemed to last really well (on both sides). There was still quite good coverage all over the face. Still though, everything just looked a bit better on the side that had the Pro Filt'r Hydrating Primer.
The primer side still looked quite hydrated, and appeared to have less texture. It also just looked a little better around the eye area and expression lines.
The primer side actually performed so much better than I thought!
Price
This retails for $46 for a 32ml size bottle at Sephora. For such a beautiful quality product, this is great value. While it's definitely not on the cheaper side of primers, I think it absolutely is worth it!  
Overall Experience
From the first time I tried this primer, I actually was so impressed. I would definitely add this to my kit AND repurchase again.
I think my perspective on the debate about whether primers actually do anything is pretty clear. I absolutely think that primers make a difference!
That said, I can understand why some people say that primer isn't absolutely essential. You definitely can apply foundation straight over your moisturised skin. It will still look really good, and it should last well if you set it.
So if you are on a budget and you can't afford it, don't feel pressured to buy it. Or if you're just starting out with makeup, it's not at the absolute top of the list of "must haves".
But if you wear makeup everyday and want the most optimal performance from your foundation, then I highly recommend investing in something that works for your skin. For my dry skin, the Fenty Pro Filt'r Primer was an absolute dream come true.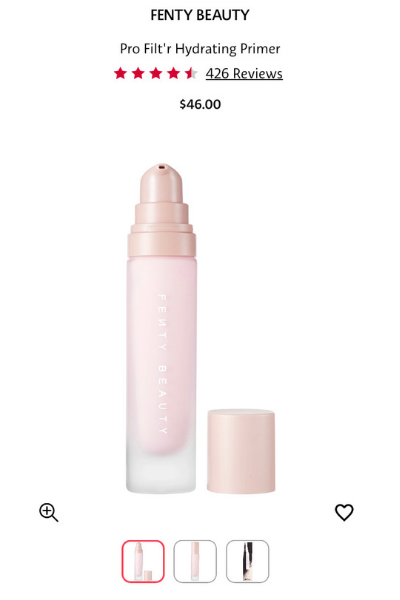 Fenty Pro Filt'r Hydrating Primer
The popular can be bought from Sephora
Overall rating: 9.5/10